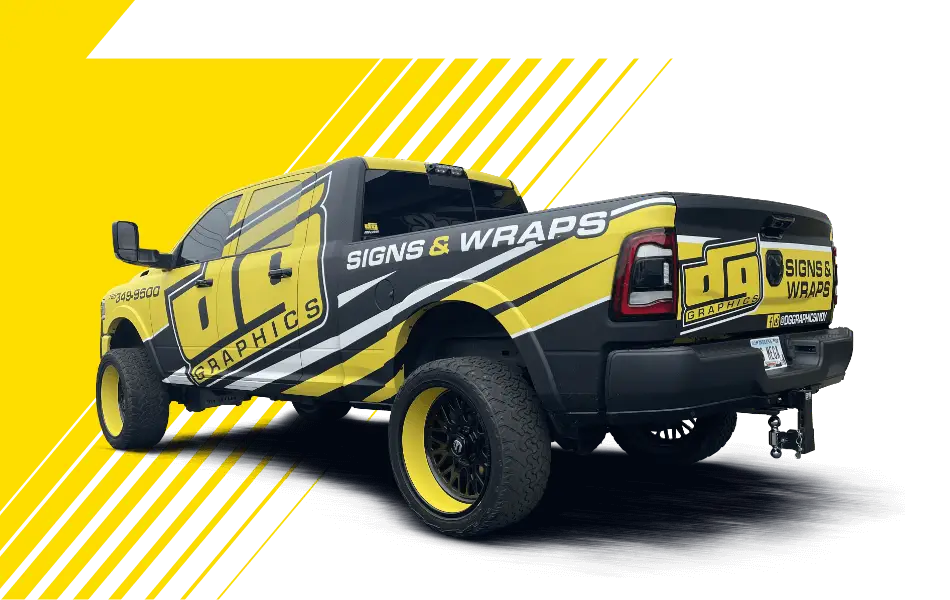 Who We Are
Take A Commanding Lead With Our Graphic Expertise
Since 2011, owner Deric Gayde and his professionally trained team have delivered innovative vehicle wrap, digital graphic, and sign solutions for Central Indiana businesses. As a family-owned, family-operated business, we have strong ties to this community and a commitment to providing our clients with a seamless customer service experience, as well as exceptional wraps, signs, and graphics.
What We Do
And How We Do It
When you work with some graphics companies, it can feel like you're going around in circles and getting nowhere—fast! That's why we outperform our competition daily. We follow a proven roadmap for success focused on step-by-step processes, true collaboration, honest communication, innovative design work, a state-of-the-art production facility, and finished work that wows!
Why Choose Us?
Businesses that get the little things right are showing their customers that they can get the big things right, too. That's why DG Graphics pays close attention to the little things—from the high-quality materials we use to our painstaking production protocol. We're committed to creating stunning full vehicle wraps, partial vehicle wraps, architectural wraps, digital graphics, exterior signs, and interior signs.
Design
We're experts when it comes to creating attention-getting designs with clean, simple-to-read messaging. Our design team has years of experience and will work collaboratively with you to achieve your vision. We value your input, but we'll also speak up when we believe certain design elements will send your project off course.
Quality
We use durable wrap films, superior inks, and other reliable materials in conjunction with our sophisticated printing techniques. We never take shortcuts or compromise on quality or installer expertise. We only install top-rated vinyl wrap materials by Avery Dennison, 3M Graphics, and Oracal that are sourced directly from our authorized supplier. This ensures that your vehicle wrap's warranty will be fully enforced and honored by the three largest companies in the vinyl wrap industry. It also ensures that your wrap will look fantastic for many years to come and will hold up to the rigors of the elements. We want you to be satisfied with your investment.
Speed
We know you're eager to get your vehicles out on the road and your signs prominently displayed. We make it our priority to adhere to aggressive deadlines. However, we always make sure that our quick install timelines do not compromise quality.
Customer Service
We want you to be 100% satisfied with your experience with DG Graphics. That's why we take the time to answer all of your questions and always keep the lines of communication open. We make the scheduling and installation process as easy as possible for you. We also provide you with color-printed samples before full-scale production to verify that the colors are consistent with your expectations. We do everything to make sure the process is as seamless as possible. With DG Graphics, you are not just another invoice number. You are part of our family!
No Hidden Costs
The price we quote you includes the design, production, and installation. We'll never surprise you with hidden costs.
Free Wrap Removal
If we installed your wrap, we will remove it for free within the standard lifetime when you are ready to upgrade to a new wrap.
"We have been using DG Graphics for years. From initial conversation to install, every experience has been exceptional. I will continue to use them-they give no reason to look elsewhere. Thanks for making us look good!"
Todd Francis, First Serve Cleaning & Restoration
"We have used DG Graphics for several years and they continue to deliver a fantastic product! They have done everything from a sign on our building and wraps on our trucks to promotional items for us. We like creative ideas and Deric always delivers! "
Sue Dugan, Dugan Air
"Deric and the team at DG Graphics took on a complicated, long-term signage project as part of our new corporate headquarters. Finding a quality vendor to support our 55-year-strong family-owned and operated company was extremely important. They took great care to address concerns, double-check work, and communicate throughout the entire process, and took extra care to clarify steps throughout the process. Our project involved the coordination of multiple parties, and DG Graphics handled the project well despite the challenges incurred by the pandemic. They have also provided several great vehicle wraps at competitive prices. We are glad to work with such a quality, locally-owned business for our signage and wrap needs."
Cameron Nichols, Palmer Trucks
Let's Get Started!
Let's talk specifics! We're happy to answer any questions you have.Call us today at 765.349.9500 or fill out our quote form.